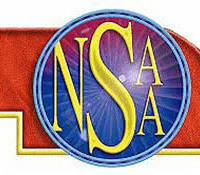 The Howells-Dodge girls basketball team finished the season as the Class D-1 runner-ups, falling 41-38 to Emerson-Hubbard in Saturday's state title game at Pinnacle Bank Arena.
Samantha Brester scored a game-high 19 points for the Jaguars, while also pulling down 15 rebounds.
Howells-Dodge, which trailed at halftime 20-19, started the third quarter on a 9-2 run to take a 28-22 lead.  The Pirates responded by scoring the game's next 14 points to forge ahead 36-28 early in the final period.  Emerson-Hubbard's lead would grow to 39-30, but the Jaguars reeled off the contest's next eight points to pull within one at 39-38 in the final minute.  The Pirates made one-of-two free throws on two straight trips down the court to lead 41-38.  Howells-Dodge called time-out with 6.6 seconds left to set up a final play, but Kalli Brester missed a 3-point shot at the buzzer.
Howells-Dodge ends its season with a 21-7 record.  Emerson-Hubbard went 28-1, closing with 27 straight victories.  It was the Pirates' first state title in girls basketball since the 1989 season.