The Nebraska Association of County Extension Boards (NACEB) held its Annual meeting on February 8th 2016 at the Nebraska Club in Lincoln Nebraska.  Each year, NACEB recognizes one Nebraska Youth Volunteer and one Business that has gone above and beyond in support of Nebraska Extension's Mission.
This year NACEB recognized Butler County Extension Youth Volunteer Craig Hruska and Butler County Extension Business Volunteer Bar S Veterinary Clinic to receive this year's awards at our annual meeting.
In the awards application Hruska was described as: "In his role as student worker the past two summers and partial falls, Craig was responsible for data collection from approximately 25 field experiments on corn, soybeans, green beans, wheat and smooth brome. He has also responsible for small plot harvest from many of the smooth brome experiments. He also helped with application of materials in several experiments. Much of this was not easy work, but Craig never complained."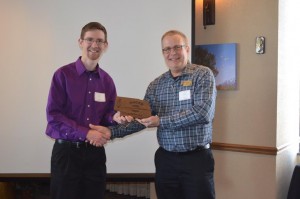 Bar S was described as: "Dr. Randy Schawang/Bar S Veterinary Clinic has been a strong supporter of Butler County Extension 4-H and other area youth programs since his arrival in Butler County in 1990. This has lead to individual success of youth as well as overall extension youth programming success in the areas of livestock, livestock judging and even weed identification.
Dr. Schawang has actively done this by providing beef for annual 4-H livestock judging contests (often multiple classes each year), supporting youth at the county fair by serving as examining veterinarian, and further supports local livestock youth by providing monetary support. He opens his facility to allow 4-H beef weigh-day every year."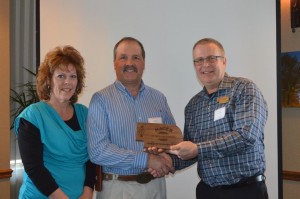 These outstanding volunteers were selected from nominations received from all counties across the state of Nebraska.  Congratulations Craig and Bar S Veterinary Clinic and thanks for all you do for Nebraska Extension.