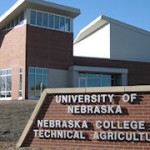 Curtis, Neb. – The Nebraska College of Technical Agriculture Rodeo Team will host two-time world champion steer wrestler Dean Gorsuch of Gering, Neb., for a Bulldogging Clinic March 4-6 in Curtis.
NCTA Aggie Rodeo Coach Bridger Chytka said Gorsuch will demonstrate basics for rodeo athletes from chute preparation and horseback technique to wrestling style in the rodeo sport also known as bulldogging.
Gorsuch won World Champion Bulldogging titles in 2006 and 2010. He continues to compete in Professional Rodeo Cowboys Association events around the U.S. and in Canada.
"We have a few bulldoggers on our rodeo team who are interested in learning more, or starting to compete at a higher level in the collegiate ranks," says Chytka. "And, our team is looking forward to providing the clinic at the indoor arena here at NCTA. It is open to anyone to come and watch."
The Aggie team members are assisting Chytka, who is an NCTA animal science professor, in organizing the clinic, setting up facilities, supplying livestock handling and arena support.
Students of any age may apply for the three-day clinic by pre-registering with Chytka at 308-367-5284.  Registration is $225 per student, and limited to 25 individuals. Spectators are invited to watch for free.
The Aggie team season opener in the National Intercollegiate Rodeo Association (Great Plains Region) is April 8-9 at South Dakota State University in Brookings.
The 2016 schedule includes:
April 8-9, South Dakota State University, Brookings, SD
April 15-15, University of Nebraska, Lincoln, Ne
April 22-23, Black Hills State University, Spearfish, SD
April 29-30, Hastings College, Hastings, Ne
May 5-6, Dickinson State, Dickinson, ND
Additional information about NCTA's academic and collegiate teams is available at ncta.unl.edu or 1-800-3-CURTIS.