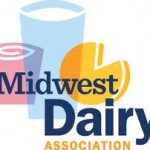 COLUMBUS, Nebraska – Dawn Klabenes, a 17-year-old from Chambers, Nebraska, was crowned the Nebraska Dairy Princess during the banquet at the annual Nebraska State Dairy Convention in Columbus last night.
Dawn, daughter of Steve and Kerri Klabenes, will spend the year serving as a goodwill ambassador for Nebraska's dairy farmers. Throughout her year-long reign she will make public appearances to help people understand the dedication of dairy farm families to their cows, their land and the milk they produce.
Dawn is a student at Chambers Public School, and will graduate in May, 2016.  She is the third generation to live and work on her family's dairy farm.
Marta Pulfer, 16, of Wayne, was named runner-up. She is the daughter of Kent and Jodi Pulfer and is a student at Wayne Senior High School.
Both the Nebraska Dairy Princess and runner-up will receive scholarships from Midwest Dairy Association.