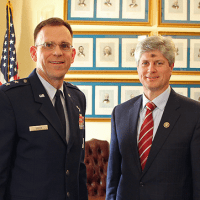 Washington, D.C. – Congressman Jeff Fortenberry (NE-01) and Governor Pete Ricketts today met with Major General Timothy Green, the Air Force Director of Civil Engineers, about the ongoing Offutt Air Force Base runway replacement process. The discussion was held by the Offutt Air Force Base Task Force, which Fortenberry founded to provide additional oversight of the Defense Department's effort to design and replace the existing runway. Governor Pete Ricketts as well as Congressmen Adrian Smith (NE-03) and Brad Ashford (NE-02) joined Fortenberry in forming the Task Force.
"From all indications," Fortenberry said, "the Offutt runway replacement is not a matter of 'if'—it is a matter of 'when.' The design process is already underway. In the next year, the Air Force will make additional considerations about the type of runway replacement. The Offutt Air Force Task Force will continue our dialogue with the Pentagon. I greatly appreciate the ongoing engagement of Governor Ricketts, Representative Smith, and Representative Ashford."
"I appreciated the opportunity to convey to Major General Green Nebraska's commitment to Offutt Air Force Base," Ricketts said. "Congressman Fortenberry has provided leadership on this issue, and I will continue to partner with him and the members of this task force to ensure a bright future for the base."
"Offutt plays a vital role not only in our district but also defending our nation and I am fully committed to ensuring that we secure the funding necessary to complete the runway project," Ashford said. "The Nebraska delegation will continue to collaborate with other Members of Congress as well as the DOD to protect the base's current missions."
Congressman Fortenberry serves on the House Appropriations Subcommittee on Military, Construction, and Veterans Affairs.