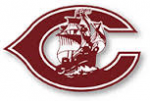 In high school basketball Saturday, the Columbus High boys and girls teams both lost to visiting Papio-La Vista.
The Monarchs' boys, ranked number-3 in Class A, started the final quarter with a 15-0 run en route to a 57-37 win. Columbus falls to 6-13 on the year.
The Discoverers girls suffered a 42-29 loss to the Monarchs, dropping to 8-11 on the season.