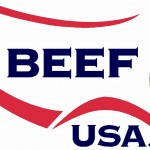 SAN DIEGO, CALIF. (January 29, 2016) –The National Cattlemen's Beef Association's 2015 Top Hand Club celebrated today the recruitment of 1,240 new NCBA members, all recruited by NCBA members over the past year.
The Top Hand Club was initiated in 1982 as NCBA's member-recruit-a-member program that recognizes volunteer leaders for their commitment in growing a strong national association. To become a Top Hand Club member, individuals must recruit at least three new NCBA members. To remain in the club, members must recruit two new members each subsequent year. The Top Hand Club recruitment year runs Oct. 1 through Sept. 30. The program is sponsored by Case IH and Roper, Stetson.
Each year, three high achieving Top Hands are recognized for their recruitment efforts, as those members who signed on the most new NCBA members. Again this year, the Top Hand Club sponsored an additional award which recognizes the Top Hand who recruited the most in dues revenue. Congratulations to the 2015 Top Hand Club top three recruiters and the top recruiter for revenue.
2015 Top Hand Club Champion – Frank Daley, Colorado Cattlemen's Association
With 87 recruits, the 2015 Top Hand Club Champion is Frank Daley of New Castle, Colo. Daley has earned awards including $1,000 in Cabela's gift cards as well as airline tickets, housing and registration for the 2016 Cattle Industry Annual Convention and NCBA Trade show, boots and apparel from Roper Stetson, and an exclusive personalized Top Hand Red Bluff Buckle.
2015 Top Hand Club Res. Champion and Top Recruiter for Revenue – Melody Benjamin, Nebraska Cattlemen's Association
From Lakeside, Neb., Benjamin has not only been awarded reserve champion recruiter for signing up 80 new NCBA members, she has also been awarded the Champion recruiter for revenue award for earning over $12,000 in dues revenue from her recruits. Benjamin received $1,500 in Cabela's gift cards and registration, travel, and lodging to the Cattle Industry Convention.
2015 Top Hand Club 3rd Place Recruiter – Adam McClung, Arkansas Cattlemen's Association
Adam McClung of Little Rock, Ark., was honored as the third place recruiter for 2015. Recruiting 66 members in McClung also earned a paid trip to the Cattle Industry Annual Convention and a free pair of Stetson, Roper or Tin Haul boots.
In addition to being the 2015 Top Hand Club sponsor, Case IH added an additional incentive for recruiter's ­– $15,000 toward a Case IH purchase. Those who recruited five or more members were entered into a drawing for this grand prize, and for every five additional recruits, they received an extra entry into the contest. This year's winner, drawn on stage at the annual Best of Beef awards breakfast, is Ryan Higbie of Kansas. Case IH announced today that they are proud to sponsor this same promotion for the 2015 recruitment year.
For more information on the Top Hand Club, call 866-BEEF-USA or visit www.beefusa.org.