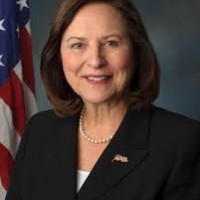 Click here or on the image above to view and download
Senator Fischer's floor speech on the Bipartisan Sportsmen's Act.
WASHINGTON, D.C. – Today, U.S. Senator Deb Fischer (R-Neb.), a member of the Senate Environment and Public Works Committee (EPW), spoke on the Senate floor in support of the committee's passage of the Bipartisan Sportsmen's Act of 2015. Senator Fischer, who also serves as vice-chair of the Congressional Sportsmen's Caucus, is an original cosponsor of this legislation. The EPW Committee's approval of this legislation is the final hurdle before the bill moves to the Senate floor for consideration.
Senator Fischer released the following statement:
"The Bipartisan Sportsmen's Act would help preserve our nation's rich outdoor heritage and enhance opportunities for recreationalists across Nebraska. I was also pleased to see an identical version of my legislation which targets duplicative pesticide permits included in the final bill. I hope this important sportsmen's package will quickly move to the Senate floor."
Access to public lands is the number one issue for America's sportsmen and sportswomen. The Sportsmen's Act includes a broad array of bipartisan measures to enhance opportunities for hunters, anglers, and outdoor recreation enthusiasts. The bill would also improve access to public lands, reauthorize key conservation programs, and help boost the outdoor recreation economy.
The committee's report of the Sportsmen's Act includes an amendment that is identical to Senator Fischer's Sensible Environmental Protection Act, which targets the duplicative requirements associated with pesticide permits.
Pesticide users and registrants in Nebraska have been forced to deal with redundant federal regulations. The Environmental Protection Agency already regulates pesticides through strict instructions on product labels. The additional permitting requirements provide no environmental or water-quality benefits. Yet, obtaining these permits costs farmers and their families more than $50 million a year.
Click here to view the text of the Bipartisan Sportsmen's Act of 2015.