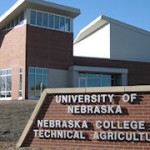 Curtis, Neb. – Successful irrigation strategies by Nebraska crop growers will be on tap January 28 in Curtis for the "Low to High Tech Water Solutions" workshop hosted at the Nebraska College of Technical Agriculture.
"The conference for irrigators focuses on choosing tools that work for their specific operations," said Brad Ramsdale, PhD, NCTA agronomy professor. "In addition to growers discussing what works best in their cropping systems, 10 speakers will outline management considerations for success."
The Nebraska Water Balance Alliance is co-hosting the sessions with NCTA and Nebraska Extension. Registration and exhibits open at 8 a.m., with the program from 9 a.m. to 3:45 p.m. at NCTA's Nebraska Agriculture Industry Education Center.
The free program is open to the public, and will include NCTA students. Pre-registration is required by Jan. 21 to guarantee a noon meal at newba2012@gmail.com or see http://www.nebraskawaterbalance.com/
"This will be a great opportunity for growers and students to see the most recent technologies on display from vendors, and to interact with water managers and irrigators throughout the industry," said Roric Paulman, a Sutherland producer and NEWBA chairman.
Program speakers will include:
* Matt Stockton, PhD, ag economist at UNL's West Central Research and Extension Center in North Platte
Topic: How much should I invest in water technology?
* Daran Rudnick, PhD, irrigation specialist at WCREC, North Platte
Topic: What tools are available to improve my irrigation management?
* Growers panel – Success strategies from real farmers
o NEWBA demonstration project
o Strip till vs. no till soybean production assessment by satellite imagery
o Dealing with challenges of pivot tracks
o Using satellite imagery to manage edible bean crops
o Challenges in changing sprinkler packages
o Soil probe placement – pros and cons of doing soil probes yourself
* Ted Tietjen, Grant, producer, agribusinessman and NEWBA project director
* Larry Umberger, NEWBA vice chair and Midwest Electric Coop general manager – Grower Panel Q&A
* Gene Ross, Nelson Irrigation Corp. district manager
Topic: Advantages and challenges of various sprinkler packages
From 2-3:30 p.m., workshop attendees can rotate to three of the four break-out sessions:
* Brad Ramsdale, PhD, NCTA agronomy associate professor
Topic: Soil Knowledge for efficient irrigation management
* Chuck Burr, UNL extension educator, WCREC
Topic: UNL irrigation management software apps
* Brad Soncksen, NRCS assistant state conservationist and Bob Merrigan, Middle Republican NRD
Topic: Funding sources for irrigation efficiency equipment
* Amir Haghverdi, PhD, irrigation specialist, Panhandle Research and Extension Center, Scottsbluff
Topic: Moving toward site-specific irrigation management
Additional information is available from Dr. Ramsdale at bramsdale2@unl.edu or by calling (308) 367-5225.