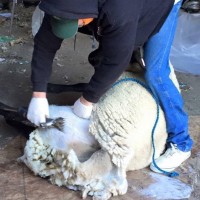 On your mark-get set-Shear! The Black Hills Stock Show Shearing Championship is an exciting event showcasing the working practice of sheep shearing. The contest is judged on time and safety of the animal. This event is the national contest for the American Sheep Shearing Council and helps shearers to earn points in the competition to represent the United States at the international contest.
A demonstration of the technical aspects of shearing a mature sheep along with a colorful narrative describing the events to ensure the safety and the well-being of the animal will be provided prior to the competition.
The event takes place at the James Kjerstad Event Center on Thursday, Feb. 4, beginning at noon.