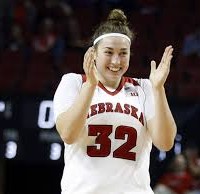 Nebraska's Jessica Shepard has claimed her sixth Big Ten Freshman of the Week award in the first nine weeks of the season.
The 6-4 forward earned the honor Monday after scoring 29 points and grabbing a career-high 19 rebounds in the Huskers' 73-57 win over Illinois on Sunday.
Her 19 rebounds were the second-most in school history by a freshman and matched NU's highest total by any player since 1999.
Shepard leads Nebraska with 19.3 points and 9.1 rebounds per game, which are on pace for the top scoring and rebounding averages by a freshman in school history.