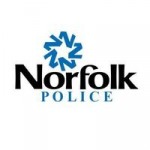 NORFOLK- Norfolk Police responded to a report of a gun shot in the area of South 6th Street. 
Around 7:27pm Monday, the reporting party stated that he saw a male place a rifle in the box of a pickup. Responding officers located the suspects' vehicle and followed it to the front lot of the police station. The driver was identified as 38 year old Kenneth Smith of Norfolk. Officers recovered a rifle and a clear plastic bag with marijuana in it, a digital scale, an open box of clear plastic sandwich bags, and an unmarked pill bottle with 15 white pills in it. 
Smith was placed under arrest for felon in possession of a firearm, possession with the intent to deliver marijuana, and possession of a controlled substance.