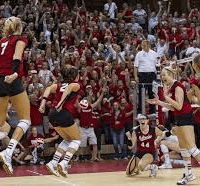 Nebraska defeated Kansas in an NCAA volleyball semifinal match Thursday night.  The Huskers' win in four sets came in front of 17,551 fans at Omaha's CenturyLink Center, the largest volleyball crowd in NCAA history.
The 31-4 Huskers will take a 15-match winning streak into the final Saturday night against Texas.  NU's old Big 12 rival beat Minnesota in four sets in the other semifinal.
You can hear Saturday's title match on News Talk 900 KJSK.  Coverage begins at 6pm, with the match set for 6:30.