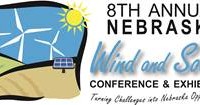 LINCOLN, NE – Two popular sessions of attendees will return to the annual Nebraska Wind and Solar Conference this year November 4-5 at the Hilton Omaha, 1001 Cass St. Chief Executive Officers of Nebraska's three largest public power utilities and Nebraska State Senators will talk to conference attendees about the current power landscape and public policy.
 On Thursday, November 5 at 10:00 a.m., Nebraska State Senators Al Davis, Ken Haar, Rick Kolowski and Ken Schilz will discuss what has happened in the Legislature regarding wind and solar energy legislation, and what needs to happen in the future to advance those industries
 "This is a great opportunity to not only hear from but meet the State Senators who have been instrumental in the legislative changes made in recent years to improve the competitiveness of Nebraska wind and solar energy," Said John Hansen, conference co-chairman. "These State Senators will be in key positions of leadership on renewable issues in the next four years   This panel is always one of the most popular sessions of the conference," he added.
 Tim Burke of Omaha Public Power District, John McClure on behalf of Pat Pope of Nebraska Public Power District and Kevin Wailes of Lincoln Electric System will speak at 1:10 p.m. that same day. The CEO's will report on the status of their voluntary energy portfolio goals, the challenges and opportunities they see relative to upcoming EPA carbon emission regulations, and other renewable energy related issues.
 "Conference attendees really appreciate the willingness of  the public power CEO's to provide their 'state of public power" address," said Dan McGuire, conference co-chair. "The CEO's insights into both the challenges and opportunities their utilities face relative to additional renewable energy generation by adding wind and solar power to the utility's portfolio is of great interest and value to the conference participants. This is an exciting time for wind energy development in our state."
Registration is $200 and student Registration is $65. Those not staying at the hotel will receive a reduced daily parking rate of $5. Standard and student registration includes the Consumer Energy Showcase, Tuesday, November 3rd from 5:30 to 8:30 pm at the Hilton Omaha.  The event is open to the general public for a $5 admission fee and includes parking.  Registration and hotel registration information is available at the conference website http://nebraskawindandsolarconference.com/.
To view last year's presentations, go to http://www.neo.ne.gov/renew/wind-working-group/2014conference/2014conference.htm.