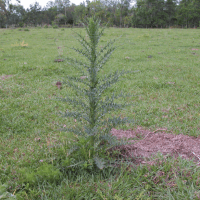 Timing is everything.  That's particularly true with musk thistle control.  And October to early November is one of the best times to use herbicides. I realize that most farmers are busy with harvest, but controlling thistles now is a management practice that makes the most efficient use of the herbicide dollar.
If you had musk thistles this year, walk out in those infected areas.  You will probably find thistle seedlings.  Most seedlings will be small, in a flat, rosette growth form, and in the fall are very sensitive to certain herbicides.
Several herbicides are effective and recommended for thistle control. Several of the newer herbicides work well like ForeFront, Chaparral, and Milestone are examples. Other effective herbicides are Tordon 22K and Grazon, which can also kill woody plants, including trees. So if you have trees you want to keep, you may not want to consider those two herbicdes.
The herbicides 2,4-D and Ally both control musk thistle that is growing actively, so they can be used now.  But as it gets colder, you will get better thistle control by adding a little Banvel or Dicamba to the 2,4-D.  Remember that 2, 4-D won't work well if it is cool or cold.  A herbicide that works fairly well late into the fall before soils freeze is Curtail.
No matter what weed killer you use, be sure to read and follow label instructions.
If your soils are dry or temperatures turn so cold that you aren't sure whether your thistle plants will absorb these herbicides, use Tordon 22K instead of the chemicals mentioned previously. Tordon has a lengthy soil residual that will continue to work even next spring, if musk thistle plants currently are dormant due to drought or cold.  Redeem, Overdrive, and Transline also work like Tordon, but they're a bit more expensive.
Next year, avoid overgrazing your pastures so your grass stands get thicker and compete more effectively with any new thistle seedlings.
Give some thought now to musk thistle control during October and November.  Your pastures can be cleaner next spring.  Dr. Bruce Anderson, UNL Extension Forage Specialist, provided information that was used for this column.
For more information or assistance, please contact Allan Vyhnalek, Extension Educator, University of Nebraska-Lincoln, Extension in Platte County.  Phone: 402-563-4901 or e-mail AVYHNALEK2@unl.edu