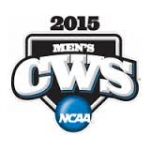 In the afternoon game Sunday at the CWS, TCU starter Preston Morrison helped pitch the Horned Frogs to a 10-3 win over LSU.
Morrison held the Tigers to one run in seven innings.  The Chicago Cubs' eighth-round draft pick earned his first win in nine career starts in the NCAA tournament.
TCU will play the winner of Monday's Cal State Fullerton-Vanderbilt tilt Tuesday night.  LSU will meet the loser of the Titans-Commodores clash Tuesday afternoon.