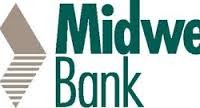 PILGER- A groundbreaking ceremony for the new Midwest Bank in Pilger attracted more than 200 people. 
Pilger is slowly working to recover from a tornado that damaged more than three-quarters of the town and killed two people last June 16. The bank announced plans for its replacement branch on Friday that will be about a block away from the old building where employees rode out last June's devastating storm inside the bank vault.
Pilger bank Market President Gene Willers says the new building will have a traditional facade outside of a modern interior.