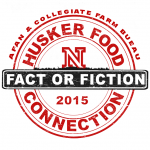 LINCOLN, NEB. – Students at the University of Nebraska – Lincoln had a unique and educational opportunity to learn about modern agriculture on Thursday, April 16 according to the vice president of programming for Collegiate Farm Bureau (CFB) and Alliance for the Future of Agriculture (A-FAN) Intern, Lukas Fricke.
"This year over 60 students who also are producers of agricultural products volunteered to help make this years' Husker Food Connection the biggest success yet. We estimated a total reach of over 7,000 between our event on campus and the social media impact," Fricke said.
Husker Food Connection is an agri-educational event where students are exposed to live farm animals, agriculture equipment and have the opportunity to interact with many of the agriculture student organizations and state commodity groups. This year, the theme of the event was focused around Food: Fact or Fiction.
"The Nebraska Farm Bureau was a great resource for our student producers to learn proper terminology before the event to help communicate the agriculture message to those on city campus who don't necessarily come from an agriculture background. We had all sorts of questions ranging from 'What is a GMO?' to 'How does the chocolate get into the milk?'", Fricke explained.
The Alliance for the Future of Agriculture in Nebraska (A-FAN) is a non-profit organization formed by leading agricultural membership groups. These groups understand that livestock production is a critical component to Nebraska's future providing vitality and opportunity for rural communities, adding value to Nebraska's agricultural output and energizing the economy of the entire state. To learn more about A-FAN visit their website (http://www.becomeafan.org/).
The Collegiate Farm Bureau is a student organization that is dedicated to serving as the 'Voice of Agriculture on Campus' through a wide variety of education, service, and advocacy efforts. For more information about Collegiate Farm Bureau, visit our Facebook page www.facebook.com/UNLCollegiateFarmBureau.