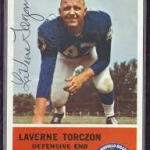 LaVerne Torczon, a Platte Center native who starred in football at the University of Nebraska and went on to play professional football, died last Saturday.  He was was 79 years old.
Torczon was a three-year letterman at NU, graduating in 1957.  Following a stint in the Army, he was a defensive end in the AFL from 1960-66 with the Buffalo Bills, New York Titans and Jets and Miami Dolphins, playing in the 1961 AFL All-Star Game.
Torczon was inducted into the University of Nebraska Hall of Fame in 1987 and the Nebraska High School Hall of Fame in 2012.
A Mass of Christian Burial at St. Isidore Catholic Church in Columbus is pending.