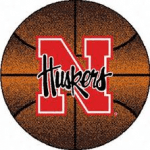 Terran Petteway is skipping his senior season at Nebraska.  Petteway announced Thursday that he will declare for the NBA draft.
He thanked fans for their support and called it a "bittersweet" decision.  Coach Tim Miles said he had hoped Petteway would return next season but he supports the decision.
Petteway was the leading scorer in the Big Ten as a sophomore and was fourth this past season.  His 18.1-point career scoring average ranks second in NU history.