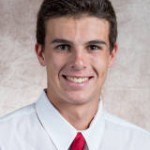 Nebraska pitcher Garrett King was named yesterday as the Big Ten Freshman of the Week.
King went a career-high eight innings and allowed only two hits and one run in a 5-1 victory over Creighton last week.  The 6-3 right hander struck out five and didn't issue a walk to improve to 3-0 on the year.
King was the starter last night, when he gave up three runs on seven hits in five-and-two-thirds innings at K-State.