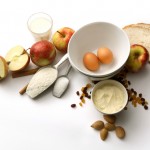 Rhubarb Cobbler
¾ cup white sugar
2 tablespoons cornstarch
4 cups chopped rhubarb
1 tablespoon water
1 tablespoon butter, diced
1 teaspoon ground cinnamon
1 cup all purpose flour
1 tablespoon white sugar
1 ½ teaspoons baking powder
¼ teaspoon salt
¼ cup butter
¼ cup milk
1 egg, beaten
2 tablespoons white sugar
Preheat oven to 400 degrees F. Lightly grease a 9 inch square baking dish.
In a saucepan, mix 3/4 cup sugar and cornstarch. Stir in the rhubarb and water. Bring to a boil. Cook and stir for 1 minute. Transfer to the prepared baking dish. Dot with butter, and sprinkle with cinnamon.
In a medium bowl, sift together flour, 1 tablespoon sugar, baking powder, and salt. Cut in the butter until the mixture resembles coarse crumbs.
In a small bowl, mix the milk and egg. Add all at once to dry ingredients, stirring just to moisten. Drop by teaspoonfuls on top of the rhubarb mixture. Sprinkle with sugar.
Bake for 20 minutes in the preheated oven, until crisp and lightly browned. Makes 9 servings.
Cola Beans
1 (28 ounce) can baked beans, drained
2 ounces bacon
¼ cup brown sugar
¼ can cola-flavored carbonated beverage
In a baking pan, alternately layer the baked beans, bacon, and brown sugar. Pour in the cola.
Preheat oven to 350 degrees F. Bake for 1 hour, or until the beans are tender. Makes 6 servings.
Beer Butt Chicken
1 cup butter
2 tablespoons garlic salt
2 tablespoons paprika
salt and pepper to taste
1 (12 ounce) can beer
1 (4 pound) whole chicken
Preheat an outdoor grill for low heat.
In a small skillet, melt 1/2 cup butter. Mix in 1 tablespoon garlic salt, 1 tablespoon paprika, salt, and pepper.
Discard 1/2 the beer, leaving the remainder in the can. Add remaining butter, garlic salt, paprika, and desired amount of salt and pepper to beer can. Place can on a disposable baking sheet. Set chicken on can, inserting can into the cavity of the chicken. Baste chicken with the melted, seasoned butter.
Place baking sheet with beer and chicken on the prepared grill. Cook over low heat for about 3 hours, or until internal temperature of chicken reaches 180 degrees F. Makes 8 servings.
Creamy Spiced Coleslaw
1 cup mayonnaise
2 tablespoons sugar
½ teaspoon salt
½ teaspoon pepper
½ teaspoon celery seed
½ teaspoon garlic powder
½ teaspoon onion powder
2 tablespoons cider vinegar
1 (16 ounce) package shredded coleslaw mix
In a large bowl, mix mayonnaise, sugar, salt, pepper, celery seed, garlic powder, onion powder and cider vinegar. Toss coleslaw mix with dressing to coat. Chill at least 1 hour before serving. Makes 8 servings.
Blueberry Buttermilk Coffeecake
½ cup butter
1 1/3 cups white sugar
2 eggs
1 teaspoon vanilla extract
2 cups buttermilk
4 cups all purpose flour
3 teaspoons baking powder
1 teaspoon baking soda
1 teaspoon salt
2 cups blueberries
2/3 cup all purpose flour
2/3 cup white sugar
6 tablespoons butter, softened
Preheat oven to 350 degrees F. Grease and flour a 9×13 inch pan. Sift together 4 cups flour, baking powder, baking soda and salt. Set aside.
In a large bowl, cream together 1/2 cup butter and 1 1/3 cup sugar until light and fluffy. Beat in the eggs one at a time, then stir in the vanilla. Beat in the flour mixture alternately with the buttermilk, mixing just until incorporated. Sir in blueberries. Pour batter into prepared pan. In a small bowl, combine 2/3 cup flour and 2/3 cup sugar. cut in 6 tablespoons butter until mixture resembles coarse crumbs. Sprinkle over top of batter.
Bake in the preheated oven for 45 to 60 minutes, or until a toothpick inserted into the center of the cake comes out clean. Allow to cool. Makes 12 servings.