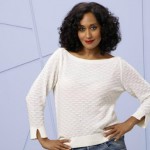 (NEW YORK) — Although Tracee Ellis Ross is starring in ABC's new hit comedy, black-ish, she's long been in the spotlight thanks to her famous mom, Diana Ross. The actress says in the March issue of Essence magazine that her mother didn't treat her and her siblings as if they had a silver spoon.

"I understand how extraordinary my childhood was, and that my mother's gift and all of the people who've loved her [have afforded me] the opportunities I have," she tells the magazine. "I also had a really great mom. We had a lot, and as much as I knew that everybody didn't live that way, she didn't raise us with a sense of entitlement."

"She used to say things like, 'Oh no, no, no, I worked for all of this,'" she adds, laughing. "'This is mine and I'm not leaving any of it to you. I'm going to spend it, so you'd better get a job, little girl.'"

Tracee says those lessons helped her onscreen portrayal of Rainbow, a mother of four, on black-ish.

"I like being the 'hot mommy'…also I find that on TV, marriage gets a really bad rap. It's like this thing you never want to do, and the comedy comes out of what people hate about being married. What drew me to black-ish is that this couple loves each other and the comedy comes out of that," she explained.

Her hit series has also inspired some changes in her own life. "I want to have a family, so until that time comes, this show is a brilliant substitute," she says.

The comedy, according to Tracee, is also helping viewers, especially when it comes to beauty and acceptance, as her character wears a natural curly Afro.

"We are expanding the definition of beauty in this country," she tells Essence. "I've been quoted as to saying, 'You hire me. You hire my hair and my a**.' But it's true! And it's a fun part to share with my character. You know that Rainbow gets to wear her hair in a way that's authentic to the kind of woman she is is exciting to me."

ABC's black-ish airs Wednesdays at 9:30 p.m. ET/PT.


Copyright © 2015, ABC Radio. All rights reserved.