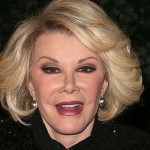 (NEW YORK) — Joan Rivers' only child, Melissa, has penned a book reflecting on the late comedian's life.
The Book of Joan: Tales of Mirth, Mischief and Manipulation will feature "funny, poignant, and irreverent observations, thoughts, and tales" about Joan, who died last year at the age of 81, publisher Crown Archetype announced on Wednesday.
"In our family we always believed that laughter was the best medicine. Not only are there less side effects than Prozac but it's a lot cheaper than therapy. I wanted to write a book that would make my mother laugh. I hope it makes you laugh, too," Melissa says in a statement.
In The Book of Joan, Melissa details never-before-heard anecdotes about life with her celebrity mom and TV producer dad, the late Edgar Rosenberg. For instance, when she was nine months old, her parents gave her as a gag gift to Johnny Carson.
"Missy, is there anything better than seeing a really good looking couple pushing a baby that looks like a Sasquatch who got caught in a house fire?" Joan quipped, according to Melissa.
Melissa also recalls helpful hints her mother taught her.
"I can do tips and discounts and figure out the number of gay men in an audience to make it a good show. That's all the math you'll ever need," she writes.
The Book of Joan will hit bookshelves May 5.

Copyright © 2015, ABC Radio. All rights reserved.