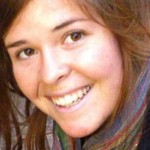 (WASHINGTON) — President Obama confirmed Tuesday that American ISIS hostage Kayla Mueller has been killed, days after the terror group claimed she had died in a Jordanian airstrike.
"It is with profound sadness that we have learned of the death of Kayla Jean Mueller," Obama said in a statement released by the White House. "On behalf of the American people, Michelle and I convey our deepest condolences to Kayla's family — her parents, Marsha and Carl, and her brother Eric and his family — and all of those who loved Kayla dearly. At this time of unimaginable suffering, the country shares in their grief."
ISIS claimed in a statement Friday that Mueller had been killed, but no evidence of her death was presented, prompting doubts about ISIS' claim from former U.S. officials.
A spokesperson for the White House National Security Council said that over the weekend, the Mueller family "received a private message from Kayla's [ISIS] captors containing additional information."
"Once this information was authenticated by the intelligence community, they concluded that Kayla was deceased," NSC spokesperson Bernadette Meehan said.

Copyright © 2015, ABC Radio. All rights reserved.