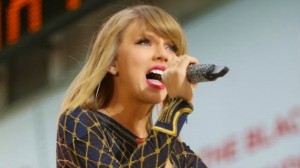 Taylor Swift is not amused. Her team is threatening legal action against a computer tech who claims he taught her how to play guitar and write songs, according to the New York Daily News.
Ronnie Cremer, a part-time musician from Pennsylvania, recently purchased the domain name itaughttaylorswift.com, and last week, the paper reports, he received an email demanding he shut down the site. If he refused, they threatened further legal action.
The email, from TAS Rights Management, LCC, reportedly said the domain name "incorporates the famous Taylor Swift trademark in its entirety and suggests TAS's sponsorship or endorsement of your website. The Domain Name and your use of the Domain Name are also highly likely to dilute, and to tarnish, the famous Taylor Swift trademark."
"I almost feel like they were trying to bully me a little bit," Ronnie tells the Daily News. "I'm not giving back the domain name. I mean, Go Daddy sold it to me."
Ronnie says he doesn't intend to sell anything on the website, but instead wants it to be a site for untold Taylor Swift stories. "It's going to be an informational website that basically lets people know what really happened," he says.
As we know, Taylor takes her trademarks very seriously. Last month, she applied for trademarks to several phrases related to lyrics from her 1989 album, such as "This Sick Beat." And last week, Buzzfeed reported that Taylor's team threatened legal action against Etsy shops that sell homemade items featuring her lyrics.

Copyright © 2015, ABC Radio. All rights reserved.