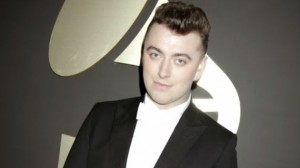 After a whirlwind Grammy night during which he took home four trophies, Sam Smith went on The Ellen DeGeneres Show — a little hungover — to chat about the experience.
He told Ellen that his acceptance speeches were all genuine, unplanned reactions — except the jab about his unrequited love who inspired In the Lonely Hour. That, he said, was planned. "I just find it funny that such a sad record and such a sad experience has turned out to be a very happy one," he said.
Sam confessed that he was dating someone new, but is now single once again. "I split up with him about three weeks ago," he said, before jokingly adding: "I couldn't bring out In the Lonely Hour and go to the Grammys with someone. I had to be 'lonely' for the Grammys."
As for the next man that steals his heart, he only has one stipulation. "I just gotta make sure my next boyfriend can polish my Grammys for me," he said, laughing.
Ellen also asked him if he meant what he said before the ceremony about giving his Album of the Year award — an award that went to Beck —  to Beyoncé. "That was a lie," Sam said with a sly smile. "I was joking. English sarcasm."
Sam did end up winning the awards for Best New Artist; Song of the Year and Record of the Year for "Stay with Me"; and Best Pop Vocal Album for In the Lonely Hour.

Copyright © 2015, ABC Radio. All rights reserved.