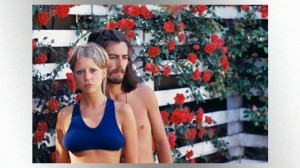 A new exhibition featuring photographs taken by Pattie Boyd, the ex-wife of both George Harrison and Eric Clapton, opens today at the San Francisco Art Exchange.  The exhibit debuts almost exactly 10 years after Boyd's first photographic display opened at the gallery and, as Pattie explains to ABC News Radio, will feature "lost photos" that she discovered in the ensuing years.
Boyd — who was married to Harrison from 1966 to 1977 and Clapton from 1979 to 1989 — captured many candid moments with the two rock legends, as well as with many of their famous friends and musical associates.
She tells ABC News Radio that a couple of her favorite recent additions to her exhibit were pics she took of the late Beatles guitarist at Friar Park, the neo-Gothic British mansion Harrison bought in 1970.
"[There's one] of George playing the piano…and it's quite dark, but it's really beautiful," the former model points out.  "You just see the hall…and then someone playing at the piano, and it's rather romantic and distant."
The other, she says, is "of George in the gardens, and it's just white snow everywhere, which actually is quite unusual for England.  And there's a lovely little sort of Japanese bridge in the background, and it is really very beautiful."
Among the other photos from her exhibit that Boyd says she likes are a couple of images featuring Clapton that were connected to two famous all-star rock concerts he played.  One is a wide shot of the stage at San Francisco's Winterland Ballroom from rehearsals for "The Last Waltz," The Band's historic 1976 farewell concert that was the subject of the Martin Scorsese-directed documentary of the same name.
"It was really exciting for me to be there," Pattie notes, "'cause everyone was there — Bob Dylan and Joni [Mitchell] and The Band, who I just absolutely adore."
The other shows Eric and Mick Jagger on a sofa chatting the day before both performed at the 1985 Live Aid charity concert.
"You can see just how kind of nervous they were," she notes.  "But that's rather nice, 'cause it brings back memories for me as well."
Another interesting item that will be shown at the exhibit is the original painting that served as the cover art for Clapton's classic 1970 Derek and the Dominos album Layla and Other Assorted Love Songs.  The piece, which was painted by French artist Frandsen de Schonberg, has never been displayed in public before.
"It's a beautiful painting and it's really nice to see it in reality," says Pattie.  "It looks lovely."
Clapton acquired the abstract painting of a blonde woman because it reminded him of Boyd, with whom he'd fallen in love even though she was married to his good friend Harrison at the time.  Pattie, of course, was the inspiration for the song "Layla" and other tunes from the album.
Boyd will attend a special opening reception for the exhibit that's scheduled for this Saturday, Valentine's Day.
Pattie tells ABC News Radio that she enjoys meeting fans of her photography because she likes to be able to tell them the stories behind the images.  The exhibition will remain open at the San Francisco Art Exchange until March 10.  You can preview some of the images at SFAE.com.

Copyright © 2015, ABC Radio. All rights reserved.