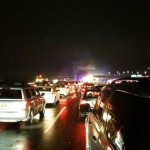 (CRANBURY, N.J.) — Police reported a multi-vehicle crash on the ice-slickened New Jersey Turnpike Monday night that involved at least 15 vehicles and left at least one person dead.
New Jersey State Police said the pile-up occurred at milepost 71 in the southbound lanes, southwest of New York City.
The 15-plus vehicles involved included four tractor trailers, two box trucks, a fully-loaded bus, and multiple cars.
Troopers were investigating the crash and all lanes were closed. Motorists reported black ice in the area.
Copyright © 2015, ABC Radio. All rights reserved.