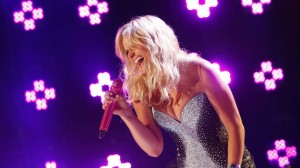 Next to AC/DC's show-opening performance, Miranda Lambert's delivery of "Little Red Wagon" on Sunday night's Grammy Awards was the most rocking moment of the show. So, is Miranda thinking about a move into the rock format soon? Not so fast.
"I'm country through and through," Miranda says. "I could sing any kind of music, but it would still be country because I'm from East Texas, as you can clearly hear."
Miranda plans to continue making music with the guitars cranked up to 11, but she balances that with more traditional-leaning material like her # 1 hit, "Automatic."
Says Miranda, "I love to have a rock element in my music. It's just fun and it gives me energy, but I'm a huge classic country fan. So, I think I'm somewhere in the middle. "
Miranda's latest album, Platinum, won the Best Country Album Grammy Sunday night.

Copyright © 2015, ABC Radio. All rights reserved.