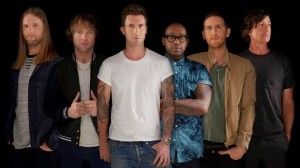 When Adam Levine takes the stage at the Academy Awards later this month to sing the Oscar-nominated song "Lost Stars," he won't be alone: he'll have his band onstage with him.
It's just been announced that Adam and the rest of Maroon 5 will perform "Lost Stars" together on the Oscar telecast. The song was performed by both Adam and Keira Knightley in the movie Begin Again, in which they co-starred.  The Begin Again soundtrack was released on Adam's own record label.
"Lost Stars" was written by Gregg Alexander and Danielle Brisebois, former members of the late '90s group New Radicals who scored a big hit with "You Get What You Give."
Maroon 5 will kick off their world tour February 16.  The Academy Awards air February 22 on ABC.

Copyright © 2015, ABC Radio. All rights reserved.