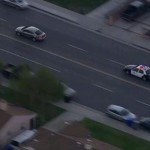 (LOS ANGELES) — An armed man led police in a pursuit Monday, hitting several vehicles and carjacking a woman before he was caught, police said.
The pursuit began west of downtown Los Angeles around 5 p.m. after police received a report of a possible stolen car.
The driver sped through local streets, sometimes against traffic, and then on to Imperial Highway where he pulled what appeared to be a gun, stole a woman's car and entered the 710 Freeway, according to ABC News Affiliate KABC-TV.
The suspect crashed the vehicle he had carjacked and fled on foot, and unsuccesfully attempted to carjack another vehicle before cops opened fire and took him into custody. A semi-automatic handgun was reportedly recovered.
The suspect's condition was not known.

Copyright © 2015, ABC Radio. All rights reserved.