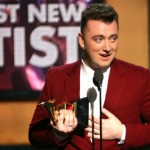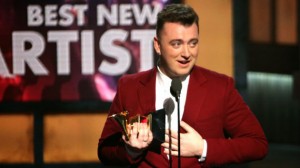 Sam Smith seems to have it all: four Grammy awards, a best-selling album, critical acclaim, millions of fans — now, he says, all he needs is a guy to share it with.  However, he's not exactly sure what qualities Mr. Right needs to have.
Speaking backstage at the Grammy Awards, Sam told reporters that he'd like to have a boyfriend, but when asked what sort of guy he's looking for, the openly gay singer joked that he needed someone with "patience."  Then, he added, "I dunno. I do not know what I'm looking for and I think the minute I start looking it's not gonna come my way….I'm just looking for, like, some crazy love story."
But it's not for purely selfish reasons that Sam wants a guy: he thinks having a boyfriend…or boyfriends…will help him write better songs.
"I'm trying to kiss as many people as I can, so I can write some good music," he told reporters. "I'm writing some music that I'm very proud of and it's more honest than anything I've ever done."  In fact, Sam says his second album, the follow-up to his Grammy-winning debut In the Lonely Hour, is well underway.
"I work in terms of concepts. With In the Lonely Hour, I had the title 'In the Lonely Hour' before I wrote the music," he explained. "I feel like I have a title and a concept to the record, um, and I've already started writing. I'm living through it now."
Sam's Grammy-winning hit "Stay with Me" was inspired by a bad romance: his unrequited love for a man who didn't love him back. But that's not why he thinks the song appeals to so many people.
"I think the thing about 'Stay with Me' that everyone relates to I think is everyone's had a lot of one-night stands, basically," he told reporters. "That's what I'd like to think. And it's the honesty. That's something that I'm never ever gonna let go of, and being honest and true in my music is very important."
Sam's next tour date is opening for his pal Taylor Swift in London on February 25.

Copyright © 2015, ABC Radio. All rights reserved.