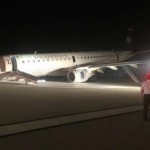 (HOUSTON) — An American Airlines flight operated by US Airways made an emergency landing at Houston's George Bush Intercontinental Airport Monday, with an American Airlines spokesperson confirming that the plane's nose-gear did not deploy.
American Airlines Flight 1825 had departed from Philadelphia International Airport.
The plane was carrying 52 passengers and four crew members. According to the spokesperson, the passengers were forced to exit the aircraft using an emergency slide.
One passenger was hospitalized with non-life-threatening injuries, the spokesperson said.

Copyright © 2015, ABC Radio. All rights reserved.