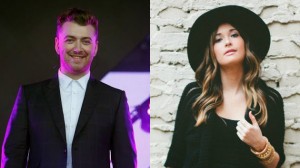 Sam Smith's next big hit could be a country duet, and his partner would be none other than Kacey Musgraves.
"I love this. @samsmithworld told me he'd love to work with @KaceyMusgraves. Let's make that happen right now," E! Online's Marc Malkin tweeted from the Grammy Awards on Sunday.
The 26-year-old country star wasted no time tweeting back her response. "Let's do it!" she wrote less than an hour later.
Sam also gave props to Stevie Wonder backstage at the awards.
"I was in my changing room and Stevie Wonder was next to my changing room," Sam told E! "He asked me to come to his room and I walked in and he started playing my song to me, 'I'm Not the Only One,' and he started singing it to me and I was like what the f***?"
"I just freaked out and got on my phone and filmed a little. It was incredible," he added.

Copyright © 2015, ABC Radio. All rights reserved.