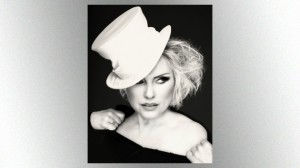 Blondie frontwoman Debbie Harry will take a break from her lauded rock band to play a 10-night residency at the famous New York City cabaret the Café Carlyle this spring.  The shows are scheduled for March 24, 25, 26, 27, 28 and 31, and April 1, 2, 3 and 4.
The Rock and Roll Hall of Famer's set at the intimate venue will include songs she usually doesn't sing with Blondie, including selections from her solo albums and some surprises.  Blondie keyboardist Matt Katz-Bowen will be accompanying Debbie on keyboards and guitar.  Surprise guests will be joining Harry throughout the residency, including some of the artists who wrote or co-wrote the tunes she'll be performing.
The shows at the Café Carlyle begin at 8:45 p.m., while additional performances at 10:45 p.m. also scheduled for Friday, March 27, and Friday, April 3.
Blondie currently has no concerts on its 2015 schedule.