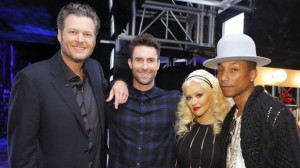 Is Christina Aguilera's baby fever rubbing off on her Voice co-star, Adam Levine? Christina sat down with E! News to gush over her five-month-old daughter Summer Rain, and to prod Adam into having his own little bundle of joy.
Christina, who also is mom to 7-year-old son Max, said since having a daughter, she's noticed that girls are a little more sensitive than boys. "I can tell even in her cry," she said. "It just takes a little bit longer whenever she gets worked up and upset about something, if she's hungry or whatever, to calm down."
But she said that only makes her want to protect her more. "It's just like, 'Oh, my God, world! Don't corrupt her!'" Christina said.
She said that Max loves being a big brother, and Adam said he can't believe how old Max is now. "He's 7?" Adam asked. "I feel like he was like 3 when I started, or 4. That's crazy. That's how long we've been doing The Voice."
That's when Christina chimed in, teasing Adam, "When are you going to have a baby? Hello!" Adam, who married supermodel Behati Prinsloo last July, said, "Oh, dude. Soon." He joked that maybe it would happen next spring, when they have some time.
The Voice returns for its eighth season February 23 on NBC.

Copyright © 2015, ABC Radio. All rights reserved.