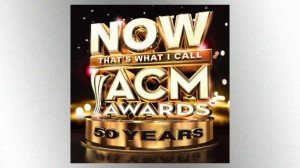 The Academy of Country Music is teaming up with the Now! Music series for a new compilation celebrating the ACM Awards' 50th Anniversary. Now That's What I Call ACM Awards 50 Years is due out March 31 featuring hits from the show's history as well as current nominees on two discs. That means Miranda Lambert's "The House That Built Me" and Lady Antebellum's "Need You Now" are featured alongside classics like "He Stopped Loving Her Today" by George Jones and "Why Not Me" by The Judds.
Carrie Underwood, Keith Urban, Brad Paisley, Dolly Parton, Taylor Swift and Faith Hill are among the other stars featured on the new compilation. Look for it to come out on March 31. The Academy's proceeds from the project will benefit their charitable organization, ACM Lifting Lives.
The 50th Annual ACM Awards will air live Sunday, April 19 at 8 p.m. ET on CBS.

Copyright © 2015, ABC Radio. All rights reserved.