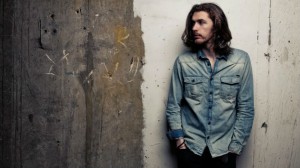 Add Hozier to the list of potential Taylor Swift boyfriends. The two were spotted cozying up with each other at a VIP Grammy after-party on Sunday, E! News reports.
"They were hanging out a lot and talking with each other," a source says. "They looked really cute together."
Sources also tell E! that Taylor gave the "Take Me to Church" singer a few kisses on his cheek. The two apparently stayed at the party until the wee hours of the morning. One source says they were still chatting at 3:30 a.m.
Five days prior, Taylor and the 24-year-old Irish singer-songwriter were spotted together at a Haim concert in Los Angeles. Back in October, Taylor went to see Hozier in concert and not long after that, the two spent time together in Nashville.
"Hanging out with Taylor as she was baking cookies for her fans was as surreal and wonderful as you'd imagine," Hozier told Billboard. "She's a very impressive human being."
They'd certainly make beautiful music together.

Copyright © 2015, ABC Radio. All rights reserved.