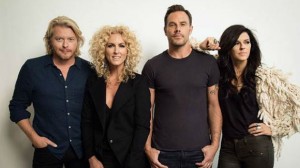 On first listen, Little Big Town's new single, "Girl Crush," may seem like a same-sex love song, but the lyric about is a little more complex than that. The other woman that vocalist Karen Fairchild is singing about is actually the new love of the guy she wants to be with. The song puts a new spin on good, old-fashioned jealousy.

"The lyric of 'Girl Crush' is written in a kind of sexy way, so some people might turn it off when they get to 'I wanna taste your lips' and all that," Karen explains, "but once they get to the hook, they go, 'Oh! It turns.' It's about a girl saying, 'Why do you love her and not me?'"

She adds, "You've got to lean in a little bit, but the fans are really loving this one."

The fans of "Girl Crush" include Miranda Lambert and Kelly Clarkson, who have both covered the song in recent concerts. "Girl Crush" is included on Little Big Town's latest album, Pain Killer, available now.


Copyright © 2015, ABC Radio. All rights reserved.