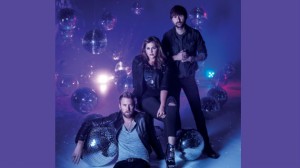 If you're looking to set the mood for Valentine's Day this Saturday, Lady Antebellum's Charles Kelley has just posted a playlist of his favorite romantic songs on his wife Cassie's blog, Womanista.com. The list starts off with Sade's R&B slow jam "By Your Side," but a few country stars made the cut. Charles included Lady A's song "One Great Mystery" from their latest album, 747. Blly Currington's "Let Me Down Easy" is on there along with "Riot" by Rascal Flatts and "Love the Lonely Out of You" by Brothers Osborne.
Here is Charles' complete Valentine's Day playlist:
Sade — "By Your Side"
SafetySuit — "Never Stop (Wedding Version)"
Ed Sheeran — "Thinking Out Loud"
The Beatles — "In My Life"
Band of Horses — "No One's Gonna Love You"
Mat Kearney — "Young Dumb and In Love"
John Mayer — "Love Is a Verb"
Brothers Osborne — "Love the Lonely Out of You"
Death Cab for Cutie — "Passenger Seat"
Billy Currington — "Let Me Down Easy"
Lady Antebellum — "One Great Mystery"
Emerson Heart — "You Know Who I Am"
Fleetwood Mac — "Songbird"
The Killers — "Here with Me"
Rascal Flatts — "Riot"
Marc Cohn — "True Companion"
Boz Scaggs — "Corrina, Corrina"
The Perishers — "Nothing Like You and I"
Shelby Lynne –"Just a Little Lovin'"
Vince Gill — "That Friend of Mine"

Copyright © 2015, ABC Radio. All rights reserved.