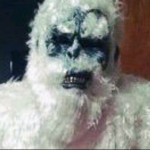 (BOSTON) — Boston's blizzard-loving and mysterious Internet celebrity — known as the Boston yeti — told ABC News on Monday he — or is it a she? — is trying to "ignite a flicker of joy in an otherwise cold and windy landscape."
The yeti, who says the snow is "a Yeti's natural habitat," told ABC Newson Monday that, "My wish is for those snowed in and stuck to hang in there, see the storms through, and think spring!"
With more snow hitting Boston on Monday, the latest yeti sightings include a heart-warming shot of him (or her) shoveling snow away from cars.
"Snow storms are funny because a sense of camaraderie develops in the community," the yeti told ABC News. "We're all in it together. If a car gets stuck, folks drop what they're doing to help push it along. If someone is struggling with a shovel and a neighbor has a snowblower, they're usually quick to lend a hand. For me, I wanted to lend a claw and do my part, too."
The yeti, who was first spotted roaming the empty, snow-covered roads of Somerville, Massachusetts, during last month's blizzard, has become a social media sensation while still hiding its identity.
Boston businesses are even offering the yeti some perks.
But does the yeti have plans to visit other cities?
"The yeti's love for his neighbor is not restricted by fences or town lines. It's universal," the yeti said. "That said, Boston, you're my home."
The yeti also re-tweets messages from its followers, promoting positivity for Bostonians as the city faces more rough weather.
So far this season, Boston has received more than 62 inches of snow, well above the city's seasonal average of a little more than 40 inches.
That total includes more than 8 inches of snow that fell this weekend. Just a few weeks ago, Boston experienced its snowiest week on record, setting the stage for increasing concerns for what to do with all the snow.
Boston Mayor Marty Walsh said the city is running out of places to put all the snow.
"We've never seen this type of snow here in the city of Boston, any other time in the history of our city," he said.

Copyright © 2015, ABC Radio. All rights reserved.