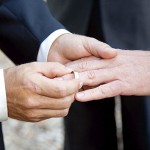 (BIRMINGHAM, Ala.) — Alabama became the 37th U.S. state to allow same-sex marriages on Monday, with couples lined up outside of courthouses ready to wed, even after a state chief justice ordered county judges to deny marriage licenses to gays and lesbians.
"I'm excited. I'm nervous," said Michael Hardin, who planned on Monday to marry Jeff Prince, his partner of 13 years.
"I just never thought it would happen here in Alabama," Prince told ABC News affiliate WBMA-TV in Birmingham. "I was totally shocked when it did."
A federal appeals court ruled last Tuesday against delaying the overturning of Alabama's gay marriage bans with U.S. District Judge Callie Granade calling it unconstitutional.
State Attorney General Luther Strange then asked the U.S. Supreme Court for a stay on the marriages until the high court took up the nationwide issue in the spring.
Then, on Sunday night, Alabama Chief Justice Roy Moore, a vocal opponent of gay marriage, ordered county probate judges to refuse marriage licenses to gay couples on Monday, despite Granade's having ruled that probate judges had a legal duty to issue the licenses.
On Monday morning, however, the U.S. Supreme Court opted not to halt the marriages.
Most judges had started granting marriage licenses on Monday and critics were blasting Moore for ordering county judges to go against a federal judge. Some state judges said they wanted further information from the courts before they permitted marriage licenses.
Susan Watson, the executive director of the American Civil Liberties Union of Alabama, called Moore's actions "grandstanding."
She said his order had no authority over probate court judges and that they risked being sued if they followed his order.
Watson, who said she'd witnessed one marriage ceremony so far on Monday, called the high court's move to deny the stay "wonderful."
"I didn't know how long it would take for [same-sex marriage] to happen here," Watson said, adding that she was thrilled and delighted to see same-sex couples have their relationships recognized in a meaningful way.
Watson said the ACLU of Alabama had received more than 40 complaints so far from couples who had been turned away. She said the next step for Alabama would be potential legal action to get all the state courts on the same page regarding same-sex marriage licenses.

Copyright © 2015, ABC Radio. All rights reserved.