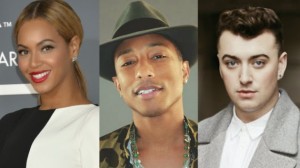 Going into the Grammy Awards on Sunday night, the leading nominees are Sam Smith, Pharrell Williams and Beyonce, who each have six nods. Next with four nominations each are country stars Eric Church and Miranda Lambert, rappers Iggy Azalea, Drake and Jay Z,  Sia, Usher, and alt-rockers Jack White and Beck.  But who's going to win?  Well, it may not be a Grammy sweep for one single performer.
The most predictable category seems to be Best New Artist. The nominees include singer Sam Smith, Iggy Azalea, country singer/songwriter Brandy Clark, sister group HAIM, and British band Bastille, but ABC Radio's resident music expert, Andrea Dresdale, says there's a clear frontrunner. 
"Sam Smith has six nominations but really, if there's any category he's a lock in, it's this one," she says. "The Grammys love young artists like Sam who make soulful, classic-sounding records.  Just look at some of the past winners in this category: Adele, Amy Winehouse, Alicia Keys, John Legend, Norah Jones…he's definitely in that tradition."
Sam is also nominated for Record of the Year for his hit "Stay with Me."  The competition includes Meghan Trainor's "All About That Bass," Taylor Swift's "Shake It Off,"  "Fancy" by Iggy Azalea and Charli XCX, and Sia's "Chandelier."  Dresdale thinks "Stay with Me" and "Shake It Off" are the two main contenders, but believes Swift might have a slight edge because her album, 1989, wasn't eligible to be nominated this year.
"Her album came out too late to receive a Grammy nomination, but I think that the industry wants to reward her, because that album was so successful," explains Dresdale. "So I think if there's a category that they're gonna give..her, they're gonna give it to her for…Record of the Year. It was a great sounding record, [and] it was number one for weeks, unlike 'Stay with Me.' So I think it's really between Sam and Taylor in this category."
In the prestigious Song of the Year category, Sam Smith is nominated yet again for "Stay with Me," and the competition includes "All About That Bass,"  "Shake It Off," Hozier's "Take Me to Church" and Sia's "Chandelier."  Dresdale thinks "Chandelier" could win because this is a songwriters' award, and, she says, Sia is "the songwriter's songwriter."
"Sia has been working kind of behind the scenes for years, writing hits for other artists like Rihanna," says Dresdale. "I think that people in the music industry want to reward her for this big hit….the biggest hit of her career as an artist herself.  I think that this has a good shot at taking Song of the Year."
That leads us to Album of the Year where the nominees include, yes, Sam Smith, for his debut In the Lonely Hour, along with the latest albums by Beck, Pharrell Williams, Ed Sheeran and Beyonce.  Even Smith says that if he wins, he'll give his trophy to Beyonce, and Dresdale agrees that her self-titled disc, released unexpectedly at the end of 2013, deserves to win.
"The album was critically acclaimed, it sold well. It changed the entire music industry," Dresdale explains. "Because, let's think back to the days of December 2013 when, all of a sudden, an entire Beyonce album that nobody knew was coming appeared, and everybody just lost their minds. It's a great album, [it] got everybody talking and also, Grammy loves Beyonce. They won't stop giving her trophies. They won't stop nominating her. I think this category is hers."
Ne-Yo, a Grammy-winning star in his own right and one of Beyonce's collaborators — he co-wrote her #1 smash "Irreplaceable" —  also thinks Queen Bey should take home the biggest prize of the night.
He tells ABC News Radio, "No one can deny that that album — from the way that she released it to the multiple hits that [are] on it, to the fact that she did a video for each and every single song — nobody can deny that that was a moment, and I definitely feel like its Grammy-worthy, yeah."
Here are all the nominations in the top categories for each genre:
Record of the Year
"Fancy," Iggy Azalea ft. Charli XCX
"Chandelier," Sia
"Stay with Me (Darkchild Version)," Sam Smith
"Shake It Off," Taylor Swift
"All About That Bass," Meghan Trainor
Best New Artist
Iggy Azalea
Bastille
Sam Smith
HAIM
Brandy Clark
Song of the Year
"All About that Bass," Meghan Trainor, songwriters Megan Trainor & Kevin Kadish
"Chandelier," Sia, songwriter Sia and Jesse Shatkin
"Stay with Me," Sam Smith, songwriters Sam Smith, James Napier & William Phillips
"Take Me to Church," Hozier, songwriter Andrew Hozier-Byrne
"Shake It Off," Taylor Swift, songwriters Taylor Swift, Max Martin, Karl Johan Schuster
Album of the Year
G I R L, Pharrell Williams
In the Lonely Hour, Sam Smith
Morning Phase, Beck
X (Multiply), Ed Sheeran
Beyonce, Beyonce
Best Pop Solo Performance
"All of Me (Live)," John Legend
"Happy (Live)," Pharrell Williams
"Chandelier," Sia
"Stay with Me," Sam Smith
"Shake it off," Taylor Swift
Best Pop Duo/Group Performance
"Fancy," Iggy Azalea feat. Charli XCX
"A Sky Full of Stars," Coldplay
"Bang Bang," Jessie J, Nicki Minaj & Ariana Grande
"Say Something," A Great Big World feat. Christina Aguilera
"Dark Horse," Katy Perry feat. Juicy J
Best Pop Vocal Album
Ghost Stories, Coldplay
Bangerz, Miley Cyrus
My Everything, Ariana Grande
Prism, Katy Perry
X, Ed Sheeran
In the Lonely Hour, Sam Smith
Best Traditional Pop Vocal Album
Cheek to Cheek, Tony Bennett & Lady Gaga
Nostalgia, Annie Lennox
Night Songs, Barry Manilow
Sending You a Little Christmas, Johnny Mathis
Partners, Barbra Streisand with Various Artists
Best Country Album
Riser, Dierks Bentley
The Outsiders, Eric Church
The Way I'm Livin', Lee Ann Womack
12 Stories, Brandy Clark
Platinum, Miranda Lambert
Best Rock Album
Ryan Adams, Ryan Adams
Morning Phase, Beck
Turn Blue, The Black Keys
Hypnotic Eye, Tom Petty and the Heartbreakers
Songs of Innocence, U2

Best Rock Song
"Blue Moon," Beck, songwriter Beck Hansen
"Gimme Something Good," Ryan Adams, songwriter Ryan Adams
"Fever," The Black Keys, songwriters Dan Auerbach, Patrick Carney, Brian Burton
"Ain't It Fun," Paramore, songwriters Hayley Williams and Taylor York
"Lazaretto," Jack White, songwriter Jack White
Best Rock Performance
"Gimme Something Good," Ryan Adams
"Do I Wanna Know?" Arctic Monkeys
"Blue Moon," Beck
"Fever," The Black Keys
"Lazaretto," Jack White
Best Metal Performance
"Neon Knights," Anthrax
"High Road," Mastodon
"Heartbreaker," Motörhead
"The Negative One," Slipknot
"The Last In Line," Tenacious D
Best Alternative Music Album
This Is All Yours, Alt-J
Reflektor, Arcade Fire
Melophobia, Cage the Elephant
St. Vincent, St. Vincent
Lazaretto, Jack White
Best Urban Contemporary Album
Sail Out, Jhene Aiko
Beyonce, Beyonce
X, Chris Brown
Mali Is, Mali Music
G I R L, Pharrell Williams
Best R&B Performance
"Drunk In Love" Beyoncé Featuring Jay Z
"New Flame" Chris Brown Featuring Usher & Rick Ross
"It's Your World" Jennifer Hudson Featuring R. Kelly
"Like This" Ledisi
"Good Kisser" Usher
Best Traditional R&B Performance
"As" Marsha Ambrosius & Anthony Hamilton
I.R.S., Angie Fisher
"Jesus Children," Robert Glasper Experiment Featuring Lalah Hathaway & Malcolm Jamal Warner
Nobody, Kem
"Hold Up Wait A Minute (Woo Woo)," Antonique Smith
Best R&B Album
Islander, Bernhoft
Lift Your Spirit, Aloe Blacc
Love, Marriage & Divorce, Toni Braxton & Babyface
Black Radio 2, Robert Glasper Experiment
Give The People What They Want, Sharon Jones & The Dap-Kings
Best R&B Song
"Drunk In Love," Beyonce & Jay Z, songwriters Shawn Carter, Rasool Diaz, Noel Fisher, Jerome Harmon, Beyoncé Knowles, Timothy Mosely, Andre Eric Proctor & Brian Soko
"Good Kisser," Usher, songwriters Ronald "Flip" Colson, Warren "Oak" Felder, Usher Raymond IV, Jameel Roberts, Terry "Tru" Sneed & Andrew "Pop" Wansel
"New Flame," Chris Brown f. Usher & Rick Ross, songwriters Eric Bellinger, Chris Brown, James Chambers, Malissa Hunter, Justin Booth Johnson, Mark Pitts, Usher Raymond IV, William Roberts, Maurice "Verse" Simmonds & Keith Thomas
"Options (Wolfjames Version)," Luke James, songwriters Dominic Gordon, Brandon Hesson, William Roberts & Jamaica "Kahn-Cept" Smith
"The Worst," Jhené Aiko, songwriter Jhené Aiko Chilombo
Best Rap Album
The New Classic, Iggy Azalea
Because The Internet, Childish Gambino
Nobody's Smiling, Common
The Marshall Mathers LP2, Eminem
Oxymoron, Schoolboy Q
Blacc Hollywood, Wiz Khalifa
Best Rap Song
"Anaconda," Nicki Minaj, songwriters Ernest Clark, Jamal Jones, Onika Maraj, Marcos Palacios & J. Solone-Myvett
"Bound 2," Kanye West & Charlie Wilson, songwriters Mike Dean, Malik Jones, Che Pope, Elon Rutberg, Sakiya Sandifer, John Stephens, Kanye West, Charlie Wilson & Cydel Young
"I," Kendrick Lamar, songwriters K. Duckworth & C. Smith
"We Dem Boyz," Wiz Khalifa, songwriters N. Fisher & C. Thomaz
"0 To 100/The Catch Up," Drake, songwriters  A. Feeney, Aubrey Graham, A. Hernandez, P. Jefferies, M. Samuels & Noah Shebib
Best Rap Performance
"3005," Childish Gambino
"0 To 100 / The Catch Up," Drake
"Rap God," Eminem
"I," Kendrick Lamar
"All I Need Is You," Lecrae
Best Rap/Sung Collaboration
"Blak Majik," Common Featuring Jhené Aiko
"The Monster," Eminem Featuring Rihanna
"Tuesday," I Love Makonnen Featuring Drake
"Studio," Schoolboy Q Featuring BJ The Chicago Kid
"Bound 2," Kanye West & Charlie Wilson
Best Country Song
"American Kids," Kenny Chesney, songwriters Rodney Clawson, Luke Laird, Shane McAnally
"Automatic," Miranda Lambert, songwriters Miranda Lambert, Nicolle Galyon, Natalie Hemby
"Give Me Back My Hometown," Eric Church, songwriters Eric Church, Luke Laird
"I'm Not Gonna Miss You," Glen Campbell, songwriters Glen Campbell, Julian Raymond
"Meanwhile Back at Mama's," Tim McGraw featuring Faith Hill, songwriters Tom Douglas, Jaren Johnson, Jeffery Steele
Best Country Solo Performance
"Give Me Back My Hometown," Eric Church
"Invisible," Hunter Hayes
"Automatic," Miranda Lambert
"Something in the Water," Carrie Underwood
"Cop Car," Keith Urban
Best Country Duo or Group Performance
"Gentle on My Mind," The Band Perry
"Meanwhile Back at Mama's," Tim McGraw featuring Faith Hill
"Raise 'Em Up," Keith Urban featuring Eric Church
"Day Drinkin'," Little Big Town
"Somethin' Bad," Miranda Lambert and Carrie Underwood
Best Music Video
"We Exist," Arcade Fire; David Wilson, video director; Jason Baum, video producer
"Turn Down For What," DJ Snake & Lil Jon; Daniels, video directors; Judy Craig, Candice Ouaknine, Jonathan Wang & Bryan Younce, video producers
"Chandelier," Sia; Daniel Askill & Sia, video directors; Jennifer Heath, video producer
"Happy," Pharrell Williams; We Are From LA, video director; Kathleen Heffernan, Roman Pichon Herrera, Jett Steiger & Cedric Troadec, video producers
"The Golden Age," Woodkid Featuring Max Richter; Chis Clayton & Yoann Lemoine, video directors; Roman Pichon Herrera, Christine Miller, Susan Porche & Annabel Rosier, video producers
Best Music Film
Beyoncé & Jay Z: On The Run Tour, Beyoncé & Jay Z; Jonas Åkerlund, video director; Svana Gisla, video producer
Ghost Stories, Coldplay; Paul Dugdale, video director; Jim Parsons, video producer
20 Feet From Stardom, Darlene Love, Merry Clayton, Lisa Fischer & Judith Hill; Morgan Neville, video director; Gil Friesen & Caitrin Rogers, video producers
Metallica Through The Never, Metallica; Nimród Antal, video director; Adam Ellison & Charlotte Huggins, video producers
The Truth About Love Tour: Live From Melbourne, Pink; Larn Poland, video director; Roger Davies, video producer

Copyright © 2015, ABC Radio. All rights reserved.