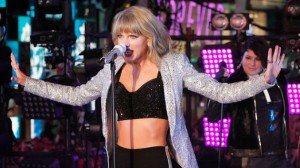 Taylor Swift takes her trademarks very seriously.  According to Buzzfeed, her legal team has been taking aim at Etsy sellers for selling merchandise featuring her lyrics and likeness.
One Etsy shop owner reportedly received a trademark infringement warning last month for a T-shirt she was selling featuring a Taylor lyric. She was ordered to stop selling the product.
"When we got the e-mail that the trademark infringement occurred, we were pretty shocked because while our item was popular we didn't feel as if it had become popular enough to cause harm to Taylor Swift's empire," the seller, who asked to remain unnamed, tells Buzzfeed.
She added that the same day, she saw Taylor was attempting to trademark a variety of phrases related to her new album, 1989. "After seeing that, we grew a little angry and felt targeted by her camp," the seller says. "It didn't seem like much of a coincidence anymore."
Last month, it was revealed that Taylor requested trademarks for lines like "this sick beat" and "party like it's 1989." Attorney Martin Schwimmer, who runs a popular trademark blog, tells Billboard that the move could signal that Taylor is planning a massive merchandising push of her own. He says it could be less about protecting against exploitation and more about expanding a line of products.

Copyright 2014 ABC News Radio