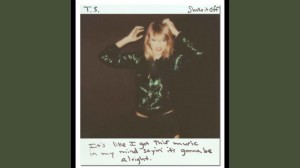 Taylor Swift's mega-selling album 1989 was released too late in the year to be eligible for a Grammy nomination, but the Recording Academy has rewarded her with three nominations anyway, all for her #1 hit "Shake It Off."
"Shake It Off" is nominated for Record and Song of the Year — two of the most prestigious categories — as well as Best Pop Solo Vocal Performance.  While the song is an infectious, danceable earworm, Taylor says she wrote it as a way to help people cope with the fact that our modern world — which allows people to spread hate anonymously — can be incredibly cruel.
"'Shake It Off' is a song that I wrote about having to deal with, on an everyday basis, just kind of how human beings treat each other," explains Taylor. "It's not just me who has to deal with it. It's everybody out there living their lives."  She adds, "The feeling of humiliation is the same when a girl has a rumor spread around about her at school that isn't true. It's the same feeling I feel when I'm checking out at the grocery store and I read some crazy headline about me."
Unlike one of Taylor's earlier songs, "Mean," in which she slammed music critics for dissing her, "Shake It Off" has a more positive outlook on the haters who are gonna hate, hate, hate.
"You have to learn to have a sense of humor about things after a while, or else you'll just live in an endless sea of resentment and bitterness and 'Why are people doing this to me?'" she explains. "And rather than writing a song that was victimized in nature, I wanted to write a song that was joyful, and gives people a way to cope with whatever amounts of ridiculousness life is doling out to them…but also makes them wanna dance."
Taylor certainly accomplished her goal with the song.  While she won't be performing at this year's Grammy Awards, she recently told fans in an online posting that she will be in the audience, and she'll be presenting the award for Best New Artist. This could be a hint that Sam Smith is going to win in that category, since the two are friends, and it would be meaningful for her to present the trophy to him.