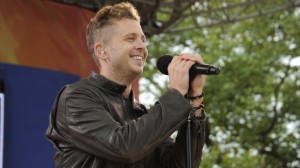 OneRepublic's Ryan Tedder is rooting for Beyonce to win Album of the Year at the Grammys Sunday, but it's partly for selfish reasons. The singer/songwriter co-wrote and co-produced the track "XO" on Bey's self-titled album, so he'll get a trophy as one of the disc's producers.
"I'm in one of those interesting categories where, if she wins, I win," Ryan tells the U.K.'s Capital FM. He says he's all set to go up on stage with her — if her security guard allows it.
But Ryan also admits if Beyonce has to lose to someone, he hopes it's Ed Sheeran. His money's also on Sam Smith to take home some Grammy gold, and says he plans on working with Sam in the future. "I've been championing him from the moment I heard his first song," Ryan says. "I was just, like, telling the world about him."
Ryan last won a Grammy in 2012 as one of the producers of that year's Album of the Year: Adele's 21.
While Ryan is planning to storm the stage if Beyonce wins, Meghan Trainor tells Capital FM if she wins — for either Song of the Year or Record of the Year — she'll likely take the stage a blubbering mess. When asked if she's thought of her speech yet, Meghan said, "I don't know. I'm probably just gonna cry up there."
The 57th Annual Grammy Awards air Sunday on CBS.

Copyright 2014 ABC News Radio