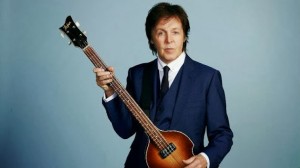 Paul McCartney has scheduled his first-ever concert in South Korea, a May 2 show that will be held at Jamsil Olympic Stadium in Seoul.  Sir Paul originally had planned to perform in Seoul last May, but he had to postpone that gig after he took ill with a virus that also forced him to shelve a series of dates in Asia.
McCartney has just released a new video in which he tells his Korean fans he's looking forward to finally have the chance to visit the country.
"I'm really excited to be coming to South Korea to play our show for you," he says in the clip, which has been posted of his official YouTube channel.  "It was a real disappointment to not be able to come last year, but we said we'd move the show to this year and we are.  So, it's going to be so exciting.  I cannot wait to see you.  And we will rock and roll, we will stomp and stroll, we will bop and bowl together.  Let's do it!"
The Seoul concert will take place after his recently announced series of Japanese makeup dates in late April.  Tickets for the show will go on sale to the general public on Thursday, February 12, at noon local time.  Fans registered with PaulMcCartney.com will have the chance to buy pre-sale tickets starting at 6 p.m. local time on Tuesday, February 10.

Copyright © 2015, ABC Radio. All rights reserved.