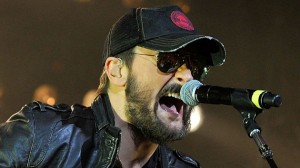 Eric Church should have an incredible seat in the audience at this Sunday's Grammy Awards since he's nominated for four trophies and is performing on the show. Seating turned out to be a big problem during Eric's first trip to the Grammys in 2012. Due to some mix up, comedian Kathy Griffin was sitting in Eric's seat just as his category, Best Country Album, was about to be announced.
Eric says, "We had a little standoff. You know, first Grammys. My wife and I ended up having to sit in the aisle right before they did the nominees for Country Album, which would have been great if we won, 'cause then they would've had to pan over to Kathy Griffin and us sitting in the aisle."
Eric laughs about the situation now, and he's definitely looking forward to taking part in the all-genre show.
"I think the biggest thing for me is I've been a big advocate of music without walls and barriers and restraint, and that's what the Grammys are," Eric explains. "That's what that room is. There's every genre in there. All genres, not just the popular, commercial ones, but all of 'em."
Performing on the Grammy Awards has been a dream of Eric's for a long time now, and he plans to make the most of the opportunity.
Says Eric, "It's gonna be interesting to see how it goes —  kind of nerve-wracking, but I'm looking forward to it."
Eric joins Miranda Lambert, Brandy Clark and Dwight Yoakam among the country performers on Sunday night's Grammy Awards. The show begins that night at 8 ET on CBS.

Copyright © 2015, ABC Radio. All rights reserved.