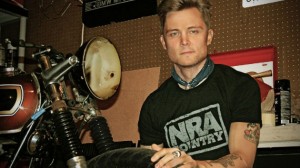 Frankie Ballard has been chosen as the NRA Country artist for the month of February due to his love for the great outdoors. Frankie often discovers new places while riding his motorcycle on the open road, but his passion for spending time outside dates back to his childhood.

Says Frankie, "I just love to get out into some fresh air and get my heart pumpin'! Ever since my cowboys and Indians days, I've been itchin' to get outside!"

Fans can check out an exclusive video from Frankie and enter to win Frankie Ballard prize pack at NRACountry.com. Florida Georgia Line, Lee Brice and Eric Paslay are among the stars featured in the NRA Country program.


Copyright © 2015, ABC Radio. All rights reserved.